This is Sophie Bishop's Facebook Event for the origami event on tuesday:
E-Board elections this Friday!
(and General Meeting, April 1st, 5:30 UC Ballroom B) Flyer click
here
Vincent Who?
Thursday, March 31st 7pm Cosford Cinema
"Vincent Who?," is a 40 minute documentary that looks at the historic hate crime murder of Vincent Chin and the current state of Asian American empowerment. Immediately after the showing, a Q and A session with director & producer Curtis Chin will occur. For more information, please contact the Office of Multicultural Student Affairs at (305) 284-2855.
http://www.vincentwhofilm.com/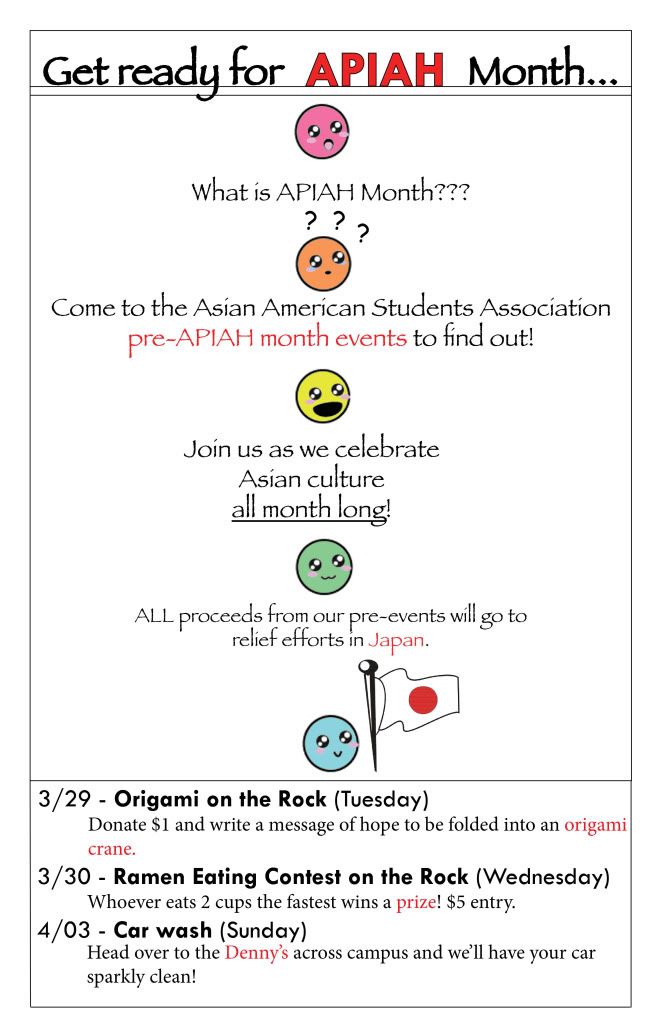 Pre-APIAH events!
Tuesday 3/29: 11 am - 2pm.
Help us fold 1000 cranes to pray for the victims of the Japanese earthquake.
Wednesday 3/30: 11am
Ramen Contest on the Rock!
Participate in the Ramen Eating Contest on the Rock! Entry fee will go towards charity.

Winners gets a gift card.
Sunday 4/3: 10 am
Dirty car? Bring your car over to the Denny's across from campus to have it washed with

proceeds going towards disaster relief.
Asia Pacific Islander Night - Wednesday April 6th! UC Patio
AASA Eboard Election Flyer:
DATE AUCTION PHOTOS ARE UP ON THE WEBSITE!